HIV/AIDS Services
Health Services of North Texas offers a variety of services to persons living with HIV/AIDS. To schedule an appointment please call 1-800-974-2437.
For more information, please click on the following:
---
HIV Services and Testing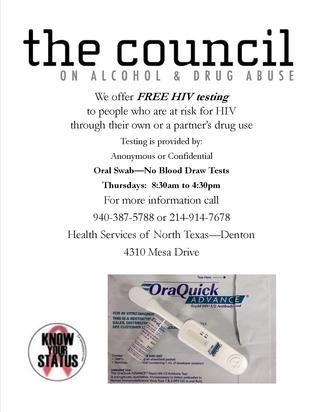 The HSNT Medical Center, through a partnership with The Council on Alcohol and Drug Abuse, offers free HIV Testing to people who are at risk for HIV through their own or a partner's drug use. Testing is anonymous and confidential. Testing is done by oral swab - no blood draw tests..
If you or someone you know would like to be tested, please call 940-387-5788 today.
---
Other HIV testing sites and times
Collin County:
For more information or to make an appointment, please call:
(972) 424-1480
Testing Days and Hours:
Wednesdays: 9:30AM-3:00PM
Hunt County:
Testing Days and Hours:
Thursday, June 20, 2013 12:00pm - 4:00pm
Thursday, August 15, 2013 12:00pm - 4:00pm
Thursday, October 17, 2013 12:00pm -4:00pm
Thursday, December 19, 2013 12:00pm- 4:00pm
For more information or to make an appointment, please call:
(903) 450-4018